The staff at The Bowman Institute, located just off Commerce Park Blvd. in Tampa Palms, wants to make every patient's experience as informative and easy as possible. Just waiting in the posh lobby, complete with two large saltwater fish tanks, can be a soothing experience. Dermatologist Paul Bowman, M.D., and his staff strive to give their patients everything they need to make informed decision with regard to their skin cancer care.
"Our main goals are to attain the highest cure rate, and provide the most imperceptible result and an easy process for the patient," says Dr. Bowman, who graduate from the University of North Carolina at Chapel Hill's Medical School and had nine years of residencies and fellowships at the University of Florida in Gainesville, Louisiana State University in Shreveport and New Orleans, the University of California at San Francisco, Saint Louis University in St. Louis, MO and the Medical College of Georgia in Augusta.
Dr. Bowman spent two years at Saint Louis University completing an official Fellowship in Mohs Micrographic Surgery and is now a Fellow of the American College of Mohs Surgery (ACMS). In order to attain and maintain a high cure rate for his skin cancer patients, Dr. Bowman specializes in Mohs Micrographic Surgery.
Decades of Surgical Success
Mohs surgery is a technique first developed by Dr. Frederic Mohs in the 1930s. Dr. Mohs recognized that skin cancer spots often resemble the tip of the iceberg, with more tumor cells growing downward and outward, like the roots of a tree.
"Instead of cutting a big area out all at once, we start where the biopsy was done and only remove the cancerous tissue," Dr. Bowman says. "The goal is to remove all the cancer cells but take as little (healthy) tissue as possible."
Dr. Bowman says that Mohs surgeries have the highest success rate, up to 99 percent. That's because 100 percent of the excision margins are examined. With standard excisions, less than one percent of the margins are examined. Mohs excisions take a "bowl" of tissue, removing one layer at a time. This allows Dr. Bowman to trace and remove the microscopic "roots" of the cancer while preserving the surrounding normal tissue.
The high cure rates are dependent upon all aspects of the Mohs procedure being performed very meticulously, Dr. Bowman says. That's why he spent two years completing a Mohs surgery fellowship with the American College of Mohs Surgery, after he had completed his dermatology residency.
"(Mohs surgery) is a very technical and labor-intensive procedure that requires a team of people with special training," Dr. Bowman says. That team includes the Mohs surgeon, surgical assistants and laboratory personnel, including histotechnologists, that the surgeon directly oversees throughout the process.
He adds that this meticulous approach to examining all of the surgical margins leads to more successful surgeries.
"A patient could have some excised skin cancer and been considered 'all clear' but the next year, the cancer comes back," Dr. Bowman says. "The margins that were looked at might very well have been clear, but that doesn't mean all margins are clear."
As you can see in the diagram on the next page, in a standard excision, it is possible for the surgeon to miss part of the cancer and not even know it. In contrast, in Mohs surgery, 100 percent of the actual surgical margins are examined by the surgeon himself.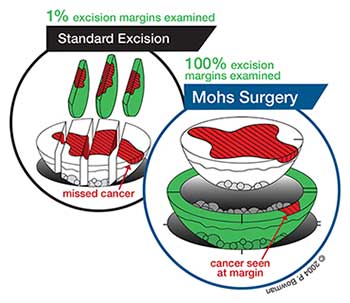 Dr. Bowman uses Mohs surgery according to established indication for skin cancer – although he says the highest cure rate is possible when it is used as an initial treatment, especially if a cancer is large, aggressive or in "high risk" areas, like the face.
In other situations, Mohs surgery is indicated when cancers recur after treatment by other methods.
"Cancers behave differently in different anatomic parts of the body, since there are different tissue planes," Dr. Bowman says. "For instance, your back has a thick dermis and fat layer that the cancer has to travel through. With your nose, there's almost no fat and the cancer can quickly extend into the underlying muscle, cartilage and bone."
He adds that he has had patients come to him after trying other procedures first, only to wish they had tried Mohs first, had they known about it.
"I had [a] Mohs procedure performed in NJ years ago," wrote one of his patients. "Very little was explained to me. Dr. Bowman's explanation was thorough, easy to understand, and he's very personable, too."
Although Mohs surgery has higher cure rates than any other treatment for skin cancer, Dr. Bowman says there are other "quick and easy," but less successful, surgical treatments such as standard excisions, or destructive treatments like electrodesiccation and curettage (commonly known as "scraping and burning").
He adds that many patients who had undergone the aforementioned types of surgery had never heard of Mohs surgery, which was originally met with resistance by the medical community. In fact, Dr. Bowman says that when he came to Tampa in 2004, there was only one other fellowship-trained Mohs surgeon in town, although it is now a much more common technique.
Dr. Bowman advises patients to seek out "fellowship-trained" Mohs surgeons (meaning, trained in the American College of Mohs Surgery). Most doctors who perform Mohs surgery in Florida have not completed a fellowship, he says.
"It's part of the message and what we try to educate patients about," Dr. Bowman says.
Complete Care
The Bowman Institute specializes in Mohs surgery, but also performs meticulous skin examinations, skin biopsies, and high-risk tumor follow-up. Dr. Bowman also performs surgical revision for patients who have had skin cancer surgery elsewhere but did not have good results.
For example, Dr. Bowman recalls a patient who had to make multiple visits to another practice for recurrences of a skin cancer on their nose. After repair, the patient had difficulty breathing through the nostril where the surgery was performed.
When the cancer appeared yet again, the patient came to Dr. Bowman, who successfully removed the cancer with Mohs surgery, and conducted reconstructive surgery, using staged flaps and cartilage grafts taken from the patient's ear, to rebuild the nostril rim.
"We were able to replace a lot of the volume (of the nostril) and now the patient can breathe again," Dr. Bowman says. "It's still healing, but the patient now has a right side of their nose."
In Mohs surgery, Dr. Bowman is both the surgeon and the pathologist – one of the key definitions of the procedure. He is the one who looks at the tissue under the microscope to determine if, or where, any cancer cells remain, and if they do, he knows exactly where to go back to follow them. "Everything is processed on site, in our own lab," Dr. Bowman says. "It's a different standard of processing."
Even if a patient's needs somehow extend beyond the services The Bowman Institute provides, the practice maintains a network and good relationships with other specialists.
In fact, Dr. Bowman recently gave a lecture at the annual meeting of the American Academy of Dermatology in California on Multidisciplinary Collaboration in the treatment of skin cancer, and how dermatologic surgeons can collaborate with other specialists (plastic surgeons, surgical oncologists, medical oncologists, radiation oncologists, etc.) to provide the best possible outcome for patients with very complicated and difficult skin cancers.
The practice opened its doors in 2004, and in 2008, Physician's Assistant Avni Koschmeder came on board. Dr. Bowman performs all of the surgical procedures, but Koschmeder helps evaluate patients prior to surgery and is very much an extension of Dr. Bowman's approach to customer care.
"She (Koschmeder) follows my philosophy of how to treat patients," Dr. Bowman says. "We want patients to feel like they are a person and not just a number. Avni does a great job with that."